Adult Sunday School
Sunday School classes are a great place to learn more, meet people, and make connections. Please visit any of the classes, and if the class you visit isn't the right fit, feel free to try another class. We are sure there is a place for everyone! If you want help deciding on a class, please email Pastor Greg or call him at (309) 589-6413.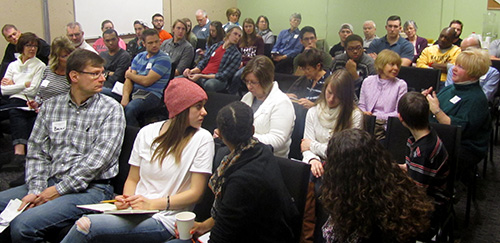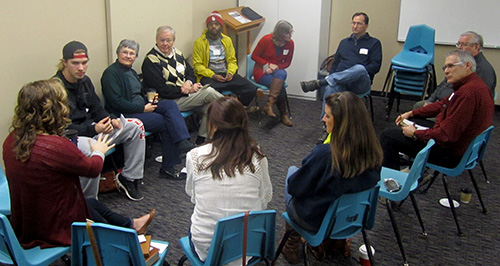 | | |
| --- | --- |
| + | Intergenerational Classes |

Room 020 (Lower Level)
Ages: Intergenerational Families
Leader: Vince Caliendo
Current Topic: The New City Catechism
This Sunday School class offers a gathering point for individuals and families who cherish worshiping Christ together. We believe the high-energy nature of a room full of kids and parents is worth the necessary flexibility and distracted moments. Our lessons are taught in a way that our three-year-olds can understand while still being challenging and edifying for the adults.

Room 015-3 (Lower Level)
Ages: Intergenerational Adults
Leader: Dustin Schumacher
Current Topic: Life in the Spirit
The Compass Class is beginning a new study, "Life in the Spirit." This is a series about some of the intimate—sometimes mysterious—workings of the Holy Spirit. Our hope is to genuinely lock arms with our Triune God, especially recognizing and appreciating the touch of the Spirit in our lives.

Rooms 015-1 and 015-2 (Lower Level)
Ages: College
Leader: John Cherne and Nate Holt
Current Topic: The Book of James
How do we live as a people of faith? This question is one of the major topics that James answers. Throughout the fall semester, we will be reading through the book of James and learning how to live wise and obedient lives in the grace of Jesus.

Room 8 (Lower Level)
Ages: College-35
Leader: John Cherne, Brian Livingston, and Austin Cohn
Current Topic: The Book of Romans
Romans tells us of the importance of understanding our faith. Each page shows us the misery of our sin and the beauty of the gospel of grace. Throughout the fall and spring semesters, we will be going deeper in our understanding of God's relationship with his people and the grace given to us in Jesus Christ.

Room 116 - Front Porch (Main Level)
Ages: Married in the last ten years
Leader: Matt Gillespie and Matt Escher
Current Topic: Hope for the Future Throughout the Bible
The goal of this class is for people to connect to one another for encouragement as we live our Christian lives. This class is our larger gathering point on Sunday as we meet in smaller groups during the week.

Room 006 (Lower Level)
Ages: Young Families
Leader: Dan Hunt
Current Topic: The Book of Acts
We are a group of young families who strive to build strong family foundations rooted in Christ. We do this by meeting and sharing life together on Sundays and throughout the week. Our desire is to develop authentic community among each other and anyone looking for a place to connect.

Room 158 - Gym (Main Level; Cafe end)
Ages: Parents of school-aged children
Leader: Darrel Meffert
Current Topic: 14 Gospel Principles That Can Radically Transform Your Family
This class is mostly composed of married couples with growing families and children from grade school to college. We study, socialize, share, and invest in one another's lives. Our focus is on growing in Christ and strengthening marriages and families.

Room 009 (Lower Level)
Ages: 45+
Leaders: John Blahnik
Current Topic: Various
This is a Christ-centered class that emphasizes biblical teaching with a focus on providing a strong community in order to strengthen our spiritual lives, relationships, and walk with Christ.

Room 021 (Lower Level)
Ages: 55+
Leader: Dave Anderson
Current Topic: Esther
This class studies the Bible together with lively discussions. Discover how God's Word still speaks to us with clarity, authenticity, and power while meeting needs for now and eternity.

Room 145 (Main Level)
Ages: 55+
Leaders: Frank & Normi Howard
Current Topic: The Gospels—The Life of Jesus
This is a Bible study-oriented class that welcomes all. Our teacher uses a combination of lecture and class participation to teach Scriptural lessons applicable to each of our lives.

Room 010 (Lower Level)
Ages: 55+
Leader: Lionel Martin
Current Topic: "We Will Not Be Silenced" by Erwin W. Lutzer
This book prepares Christians to live out their convictions against a growing tide of hostility in the world. Gain a better understanding of nonbelievers' legitimate hurts and concerns regarding issues like racism, sexism, and poverty and identify the toxic responses secular culture disguises as solutions. In the process you'll see how you can show compassion and the love of Christ as well as what the Bible says about these issues.

Room 132 - Church Lounge (Main Level)
Ages: 55+
Leader: Tom Allen
Current Topic: Gospel of John
We seek to encourage and energize people through in-depth Bible study, open discussion of a study book, supportive relationships, prayer, and praise. This time also includes a topical-oriented study or discussion of current issues. We uphold each other in prayer and provide encouragement when needed.

Room 158 - Gym (Main Level; Kitchen end)
Ages: 65+
Leader: Gary Chiaravalle
Current Topic: The Gospel According to Isaiah
The study of this rich Old Testament book deals with the sinful nation of Judah and God's judgment—a demonstration of His infinite love by providing a message of Good News with the promise of a Savior. This study will dig deeply into God's Word and message of salvation.

Room 146 - Chapel (Main Level)
Ages: 65+
Leader: Steve Siepel
Current Topic: Gospel of Luke
"That which we have seen and heard we declare to you..." This class has its goal set firmly on God's Word where joyful interaction with Scripture and each other flourish. We are an older class that enjoys fellowship and studying Scripture; we offer a warm conversational interaction with an open Bible.

Room 017 (Lower Level)
Ages: 65+
Leader: Bob Hefner
Current Topic: "Revealing the Mysteries of Heaven" by Dr. David Jeremiah
This class encourages everyone to participate in discussion. The primary topics of study are books of the Bible with excursions into specific biblical concepts. We also discuss current events and societal topics in the light of biblical teaching and prophecy.

Room 008 (Lower Level; starts 11/14)
Ages: 25-40
Leader: Mike Uno
Current Topic: The Basics of Christianity
This class discusses basic Christianity for those whose second language is English.

Room 172 - Adult Special Ed. (Main Level)
Ages: Special needs adults
Leaders: Russ and Robin Fahlberg
Current Topic: The Book of Esther
This class is designed to provide a spiritual community for adults with special needs. The class includes Bible teaching, singing, crafts, small group interaction, and a snack.