Summer Camp is one of our favorite weeks of the year in the student ministry!
It is a week many students look forward to because of the unique qualities our camp has. Each day is filled with fun games, a variety of activities, lots of free time, worship, impactful talks, and small group break-out times (divided up by gender and age). Students have great fellowship with one another all week long, developing life-long friendships and drawing closer to God at the same time. We hope you can be a part of it this year!
Who this camp is for:
Any student who has completed 7th grade all the way through seniors who graduate in May 2022.
Camp Dates:
June 27–July 1
Camp Location:
Williams Bay, WI (Conference Point Center on Lake Geneva; a beautiful place with lots of fun things to do!). Students will ride up on either a Grace bus or charter bus.
Theme:
Hebrews 4:14-16 says, "Since then we have a great high priest who has passed through the heavens, Jesus, the Son of God, let us hold fast our confession. For we do not have a high priest who is unable to sympathize with our weaknesses, but one who in every respect has been tempted as we are, yet without sin. Let us then with confidence draw near to the throne of grace, that we may receive mercy and find grace to help in time of need." We are encouraged that in this culture of confusion, we have a solid guide in Christ. He has gone before us, knowing the struggle and overcoming it, so that we can follow after Him in full confidence.
Out of this spiritual theme comes our fun theme, which is "Trailblazer" (our fun take on a survival-oriented theme)! We're drawing from shows like "Man vs. Wild" to highlight how even novices can navigate harsh terrain with the help of an experienced guide. We will have fun theme-related teams and students can bring creative survival outfits to help with team spirit (they of course don't have to dress up at all if they don't want to).
Speaker: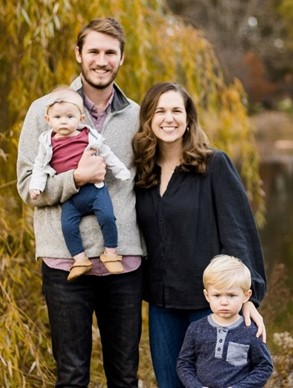 This year, we have invited Ethan Brown to join us as the camp speaker. Ethan was born and raised in South Florida and attended the University of Florida, where he met his wife Amanda. He went on to get his Masters of Divinity from Reformed Theological Seminary. He has a son (Judah) and daughter (Ellis) and now leads the RUF (Reformed University Fellowship) chapter at the University of Illinois, working with college students. He is excited to engage our students all week at camp!
Cost (please pay by check to Grace Presbyterian Church with "Camp 2022 and your child's name in the memo line):
$330.00 if you register by May 15
$380.00 if you register after May 15
Discounts:
There is a $25.00 multiple-family-member discount for families that have multiple kids going to the camp. Each family member going receives $25.00 off their camp cost (this applies only to immediate family members living in the same household).
Camp scholarships are available; we really don't want money to be a reason you can't come! E-mail John Vanne or have your child pick up a scholarship application at Junior or Senior High gatherings. Scholarships will be awarded based on need and in order they are received as the youth budget allows. ***If students receive a scholarship, the multi-family discount will not be awarded as well.
Deadlines:
Scholarship application deadline is Sunday, May 15
Early Bird Registration deadline is Sunday, May 15
Final camp registration deadline is Sunday, June 12
Questions: Contact John Vanne
---
Please contact John Vanne if you would like to register or if you have any questions regarding camp.